It's hard to believe that a full year has passed since Willowbank's inaugural Stone Festival, but here we are again…
This years event was a little bit different, and slightly more low-key than the first one.  The Canadian Stone Carving Festival, which held its annual event together with Willowbank last year, returned closer to home this time. Their event was held in Ottawa several weeks ago. Which is very understandable, as many of the carvers are people involved on the restoration of the Parliament Buildings.
In any case, without the stone carvers, the Willowbank Stone Festival was primarily focused on the art of dry stone walling.  A sizeable group of wallers from Canada, the USA and Great Britain were in Queenston working to complete the 'Forge Studio'.  There was also a 2-day dry stone walling course on the weekend, followed by a DSWA certification day on Monday.  There was some stone carving happening, with several individuals taking a 1-day introductory stone carving course.
On Sunday, a group of master wallers participated in a friendly walling competition.  It's absolutely amazing to see these highly experienced craftsmen at work.  I've no idea how they can do such quality work so quickly.
For my part, I had the privilege of teaching an introductory blacksmithing course to a group of dry stone wallers.  The students all happen to be from the Saugeen First Nation, and who have been working on the restoration of a large stone amphitheatre.
This slideshow requires JavaScript.
Just like last year, I was blacksmithing in the rain.  Note to Willowbank: I'd like some dry weather for next year, please.
The students were all very keen, and did quite well on their first attempts at blacksmithing (all things considered).  A 1-day introductory course is far too short… at least for first-timers.  Just as soon as you're starting to get the hang of working with tongs, your day is over.  Perhaps next year they'll come back for more.
The absolute best part of the weekend, was that the stonework on Willowbank's new Forge Studio is now complete!  Now its just a matter of getting the roof done, sealing up the gable ends, and building all of the windows and doors.  Hmm, okay so perhaps it's not *that* close to being done. But I have faith that it'll at least be done enough to keep the rain off me by next Stone Fest.
I don't have too many photos of the Forge Studio at the moment (was getting late on Sunday by the time I packed up); but will post some soon.  In the meantime, here are some other shots from the event.  Stay tuned for more…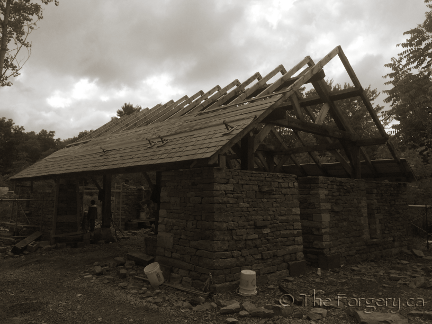 Tags: blacksmith shop, Dry Stone Walling, forge studio, Queenston, Stone Festival, Willowbank