I've just completed building a new gas forge!
This past weekend I went back, yet again, to see David Robertson at the Hammer & Tongs in Cargill, Ontario for his one-day forge building workshop (he's probably getting sick of me by now…).  It was another terrific course.  A lot of valuable knowledge, including a mini crash-course in welding.
The best part, of course, is that I came home with a new, fully functioning, gas forge!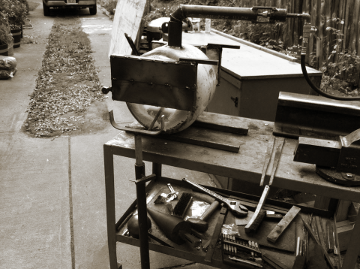 Don't get me wrong, I like using solid-fuel forges too.  But there is a real convenience factor from the quick start-up and mess-free shut down at the end of the day when using gas.  Suddenly, it's realistic for me to do an hour of forging in the evening after school / work.