It's a discouraging thought for any craftsman; no matter how much care and attention you put into making something, it will likely end up in the trash at some point in the future.  I recently had the pleasure of rescuing two items from this fate … at least for now.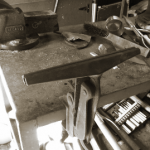 The first was an old mystery tool.  A friend of mine operates a junk removal business.  He had stopped in to see me about something, and said "Hey, I have something in the truck you may be able to make use of.  It's some kind of a vise.".
My friend had done a clean-out of a garage, and to the owner, this tool was just a rusty bit of metal they had no use for.  Turns out, it's a special vise used for sharpening hand-saws.  I gave it a try, and it works wonderfully!  It needed nothing more than a light cleaning with a wire brush to get rid of the surface rust.  If I didn't happen to see my friend that afternoon, this would have been melted down for scrap.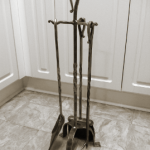 More recently, I was clearing out my (late father-in-law's) garage, and came across a box of marked "for yard sale".  The box had probably been sitting there at least 15 years.  It contained mostly junk, and a whole lot of mice nests, but it also had this in it.
As a student of the art of blacksmithing, I was immediately drawn to this fireplace set.  I suppose I can understand why this set was destined for the penny table at a yard sale – people tend not to have fireplace sets these days.  Those that do, often have them simply as decoration, sitting next to their gas fireplace.  This set was in rough shape when I found it … it was heavily rusted, and the stand had been painted in a thick layer of glossy black Tremclad which was flaking off.
But the more I looked at it, the more detail I noticed.  This set is old; but it is both hand made, and very well made.  After spending a good hour cleaning it up on a wire wheel, I think it's beautiful.
This fireplace set is no masterpiece of ornamental  wrought ironwork.  It is not old enough or rare enough to be a museum piece, or to be collectible.  But someone, at some point in time, put a great deal of effort into making it.  It deserves better than to be sold off for a pittance, and eventually wind up as scrap.
I am glad to have come across both of these items, to have rescued them from the scrap heap, and to extend their life as working tools.