Hooray! I've got a real anvil!
Not that there was anything wrong with my crane rail; in fact I'll be holding onto it too. But I've been looking for so long with no luck, that I wasn't going to pass this up. The opportunity to buy this anvil came up quite unexpectedly, and so I jumped on it.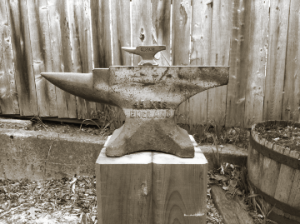 It's only a little guy, weighing in at 100 lbs. The gentleman I bought it from thought that it was about 80 years old, and that it was made by Record tools in Sheffield, England. There are very few markings on it, and I've not found much information on Record anvils. However, it still has traces of blue paint on it, that is in the 'classic' Record shade (which on older tools, was the fairly dark RAF Roundel Blue).
I happen to have a commemorative miniature anvil that I know was made by Record, produced for their 100th anniversary … My anvil, and the miniature look virtually identical (other than size). Not that that means anything, but it does offer some support that this may have been made by them too.
Looks like I made that stump just in time!
EDIT / UDATE:
Well, I sure was new to the world of anvils when this superb little piece of kit came into my life.  It has become my 'daily driver' and I absolutely adore it. However, that rumoured identification was *way* off.  I've found no information on Record tools ever having produced anvils. And very early on into my education about English anvils makers, this guy's identification became very obvious … It's a John Brooks.
Most of the Brooks anvils I see are marked with the word "BROOKS", where as mine is marked with "JB". I have no idea why. Perhaps that indicates which foundry it came from, or was intended for a specific market (i.e. domestic vs export). But it really doesn't matter much. The thick heel, shape of the horn and shape of the feet just scream Brooks – who also used blue paint.
Tags: john brooks anvil, record anvil