My wife & I are in the middle of a bunch of renovations on our house. Currently, we're in the process of having our roof replaced (re-shingled). The old shingles have been stripped, some of the decking has been replaced, roofing felt/membrane is down, new flashing is installed, and probably 2/3 of the new shingles are on.  And so, of course, despite a long-range weather forecast of good/clear weather – a F#@%KING HURRICANE has just passed through Niagara.
Okay, to be fair it wasn't an actual hurricane – it is the remnant weather system of what was a hurricane further south and a few days ago.  But still. It was sustained, torrential, heavily wind-driven rain that lasted far, far too long.
We did manage to get the roof tarped in advance of the storm hitting. And when the wind began ripping at those tarps, we were able to get someone out to re-secure them and add a couple more.  But nevertheless, the rain found it's way in.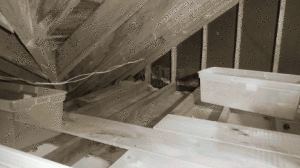 And while sitting up in my attic in the middle of the night, moving around large tubs to catch the steady streams of water coming in, and wondering if the trembling roof deck would rip off – I was struck by something… No, not lightening.
I was struck with the realization that ivy is an evil plant.  This house must have had ivy on it at some time in the past.  Not only growing 'on' it – but apparently also growing in it.  That nasty plant had grown right through the asbestos siding, and into the attic.  It had grown several feet into the attic.  I'd estimate that some of it had stretched well over 10 feet into the attic space (from the wall where it came in).
Wow!