Children are amazing! They soak up knowledge like a sponge – and are aware of everything that goes on around them.
A few weeks ago, after spending an afternoon doing some yard work, we were trying to get the kids packed up and in the car. My son (currently 3 1/2 years old), absolutely refused as he was 'too busy working'. Rather than forcing him and dealing with a cranky toddler for the rest of the day, I stood back and watched what he was doing that was so important to him…
He had an empty grass seed bag, which he was 'pouring' into a planter. He then took a long stick, and put it across the planter, stood back and started pumping his arm up and down in the air. At this point, I just had to ask … "What are you doing son?". His answer: "I'm blacksmithing Daddy. This is my forge".
The empty bag, was him pouring in some 'charcoal'. The planter was his forge, the stick was his 'metal'. The pumping his arm up and down, was the handle on an imaginary blower. I was in awe. My wife and I just stood and watched him for the longest time. He was a little man on a mission, and we weren't going to interfere.
Of course, I cannot do anything other than to encourage this. And so, daddy has been busy collecting and building the things necessary to make him his own shop. It's a work in progress, but so far, he's loving it.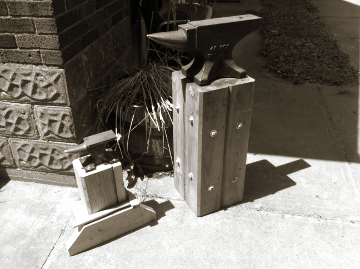 His small anvil on a scaled down stump (shown next to my 100 lb anvil for scale).
His forge is an old pot (actually a chestnut roaster), set on top of a steel pail to give it some height, filled with a few large pieces of coke. The blower, is an upside down grass seed spreader – it has a crank handle with a bit of resistance to it, and makes the right noise.
I made him his own miniature blacksmith's cross pein hammer out of a block of hardwood for the head, and the handle from a small tack hammer (shown with my small 800g hammer for scale).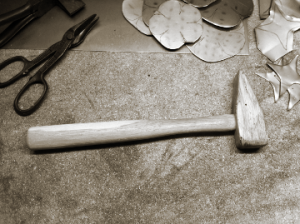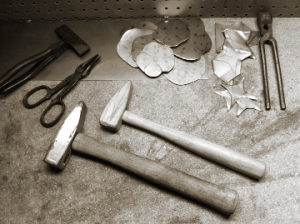 The most difficult part so far, is finding him some real safety glasses, that are child-sized. I've been letting him use child's sun glasses when he's doing his own pretend / play forging; and insist on real (adult sized) safety goggles when he is watching me work -but neither is ideal. I have ordered some which have a lot of positive reviews , the "Dyno-Mites Child Safety Glasses" manufactured by Sellstrom. I'm very anxious for them to arrive, so I can see if they'll work out for him.