I've recently been getting … well, frustrated isn't the right term … let's say "bogged down".  That sounds about right.
I'm enjoying blacksmithing as much as ever, but my 'to do' list of projects seems to be getting longer and longer, and no matter how much time I spend working, I'm not making much headway.  Not only metal working projects, but all sorts of other things.
As mentioned in a previous post, I'll be going back to school full-time in September.  In the meantime, I'm trying to set-up a new workshop, gut and completely  renovate a house, look after my two small children, and help out family members with some of their own renovations.  On the smithing side, I've been collecting stuff, much of which needs some TLC before I can make full use of it.  I need to make a new spring and mounting bracket for my leg vise; to find a home for my large forge, and hook the electric blower up to it, so that I can fix my broken, wobbly small forge, etc., etc.
One issue, is that I've been 'hitting a wall' so to speak, on the skills side of things.  The first (basic) hands-on course I took was fantastic.  It gave me the confidence I needed to spark up my own forge, and practice / play / learn on my own.   But I was still a bit intimidated by larger, more complex projects.  And a few of the new techniques that I tried teaching myself after doing a bit of reading, were of limited success (i.e. forge welding).
So, this weekend I found the answer to my problem … I took another hands-on course.  I'm back at The Hammer & Tongs (David Robertson's shop) for his Intermediate Course.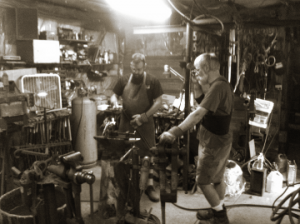 David's Intermediate level course is more technique-oriented rather than project-oriented, which is exactly what I needed right now.
I'll write another post about the course once I'm back home and rested – but I am completely re-energized now.  I can't wait to get back to my own shop, and jump right into tackling that to-do list.