A good friend of mine from Willowbank, Mike, is becoming quite the maker these days.  Considering he was an 'office guy' in his past life, the stuff he's producing is really quite good (but don't tell him I said so, it'll go to his head).
Along with his friend and creative partner, Julie, he's been building a lot of things using old reclaimed lumber and such – much of it in the 'industrial' or 'vintage' style.
In any case, we've decided to collaborate whenever it seems appropriate to incorporate metal into their projects.  And have just finished a first small project together.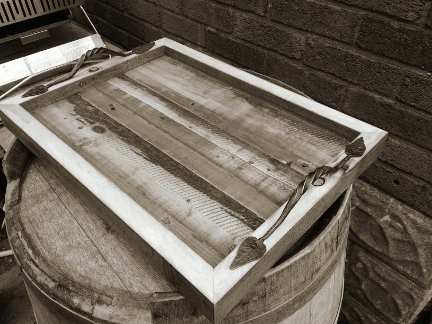 Mike had made this tray from old reclaimed floor boards, which was quite a beautiful piece on its own.  But they felt it needed handles. I agreed, and came up with some.  Not a very big or complicated project for either of us, but I think we're onto something.  Hand forged steel and old wood just look right together.  I hope we have the opportunity to do more of this.
Besides, getting together to work on a project is as good a reason as any for a beer call with a good friend!