So despite all that I've had going on with hospital visits, etc., I've still managed to work on some interesting blacksmithing projects this summer.  The first and biggest of these so far, started with a simple enough question – "Can you make this?".
In June, Willowbank's dry stone walling instructor Dean McLellan got in touch with me. He was working on a very cool water-feature for Reif Estate Winery in Niagara-on-the-Lake, and the clients had an idea for adding a decorative element that required a blacksmith.  Dean knew that I was big into blacksmithing, and asked if I'd be interested in taking a look. Which of course I was.
I met with Dean and the winery's owner Klaus to find out what it is they were after.  Klaus then showed me a photo on his computer. It was a bow-tie shaped iron plate, set into the top of a stone wall (crossing the joint in the coping stones). The photo was apparently taken during a visit to Versailles, of a wall in the gardens. "Can you make something like this?", he asked.  Yes, sure I can.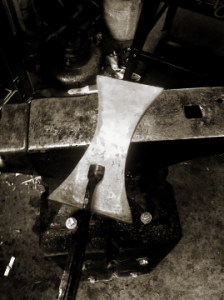 That's when the fun began…
First came some Googleing to see if I could find out what these things are (their proper name, perhaps how they were traditionally made, if there are different styles, etc.). But I couldn't find a thing.  So starting from scratch, we discussed how big they wanted them, and went from there.
Overall these 'ties' were to be 8″ long, 4″ at the ends narrowing to 2″ in the centre. And we decided on using 1/4″ plate as the material.  Then out came the modelling clay.  I determined I'd need about a 6 3/8″ length of 1/4″ plate.  I made the first prototype completely by hand – eyeballing the curvature. The results were pretty close to what we were after, and the project was given the green light.
The next step was to make a template / jig. These were not going to look right when installed, unless I could get a high level of consistency – especially in the curvature and the width of the 'points' (as those are what your eye would pick up on while looking down a line of them).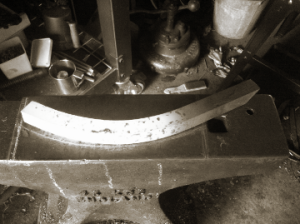 Once the jig was made, came a lot of hammering.  Not too far into the project, I was very worried that I may have taken on too much. And I went so far as to buy myself a bit of an insurance policy – and I had a few blanks cut the right shape – just in case.  But, I was determined to keep hammering away by hand, so kept going.
 I must say that there were a few aspects of the project that I did not completely enjoy.  Firstly, using a gas forge indoors during a heat-wave.  For several days I cooked myself in a 44 degree shop in high humidity. The gas forge throwing out a tremendous amount of heat.  On top of that, I found the radiant heat coming off the plate steel was much higher than the bar stock I have been using for most projects. It required the wearing of gloves (which I hate), and a lot of quenching of tongs.
But after a long 50 hours of 'heating and beating', the plates were done and ready for installation.
The fact that my metalwork was allowed to be added into this project is humbling to say the least.  The dry-stone water feature that Dean built is, literally, a masterpiece.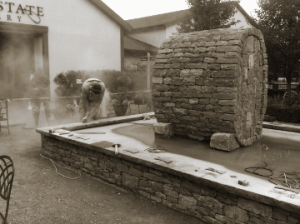 The traditional definition of a masterpiece, is a piece of work done by a suitably experienced skilled craftsman that is then put forward to be judged by the existing Masters within that trade/crafts guild.  Only if the work is deemed to be good enough will that person be considered to be a Master themselves.  This project was such a piece of work for Dean – who is in the process of obtaining his Master's certification with the Dry Stone Walling Association of Great Britain.
In any case, my work getting the nod of approval for inclusion into the finished project, Dean began the process of installing them.  The 'tie plates' were carefully laid out, and their outline carved into the coping stones to create recesses into which they were mortared.
The project was not without its challenges, but I am thrilled with the end result.  I feel that the metal work adds something (to a project that was already stunningly awesome to begin with!), and hope others will think so as well. I'm so happy to have been given this opportunity and will carry the lessons learned from it forward as I advance my new career.
If you ever find yourself in Niagara, be sure to stop by Reif Estate for a glass or two of wine and enjoy relaxing around this amazing water feature.
For more information on the dry stone water-feature, check out this newspaper article that was written about it in the Niagara Advance: Art graces Reif Estate Winery