The gentleman I bought my anvil and electric blower from, also had a couple of vises. The bigger one was already spoken for, but he had another that needed some work.
The jaws move, but are stiff. The screw is good. It's missing the spring and mounting bracket. But for $75, it's worth fixing (note: I understand these are fairly easy to get in some places, but where I live is not one of them. They're rare here, and always sell for a high price).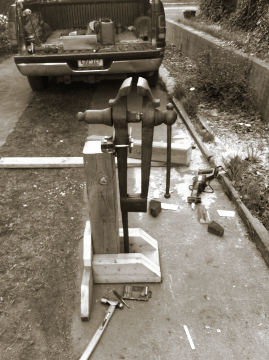 This is a temporary stand I whacked together out of left over 6″x material. I just wanted to get the vise off the ground so that a) I can work on fixing it, and b) so I'd stop tripping on it.
The guy I bought the vise from threw in an automotive leaf spring, which is what he'd planned on making a new spring from.
Hmm, I'm thinking that the new heavy stump is about the right height for this…